Their digital erotic art is an overwhelming experience, full of historical references, mythology and Christian iconography. The amount of naked people on display is massive and you easily get lost inside these wonderful surreal worlds. The creative brains these erotic images sprouted from are Ze Diogo & Diamantino Jesus. This artist duo from Portugal works together as DDiArte since 1999. Together they discovered the endless possibilities of digital image manipulation and incorporated it in their art.
Thematically they use our cultural heritage as their main source of inspiration. Not in a way that it feels like a redesign or copy of an old painting, it's more a mixture of old artistic concepts and new ideas. This gives their work this unique and recognisable appearance, it feels "known" but very fresh and contemporary at the same time.
The art of DDiArte is an homage to the beauty and sensuality of the human body. Especially in their large allegorical pieces where there seem to be no room for the ugly and someone less than perfect. All men and women in these images are young, have perfect faces and idealised bodies. And somehow this feels logical when you consider where their inspiration is coming from, the Renaissance and Baroque art. A big difference though with these old masters is that the nude in DDiArte's images is far more erotic and sexually charged.
I had the opportunity to ask Ze Diogo a few questions about their art, inspiration and creation process.
Quite a lot of your images have historical references, where does this come from?
Before we started DDiArte we both were painters. Mythology, religion and the classical period was the main inspiration for our paintings. We just continued these "themes" in our photography. We think that these themes and stories are still valid in our modern lives. They also give us as artist the tools to send messages to society. To be able to fully understand our work people do need a minimum of knowledge of the references we use.
Do you work together on a piece? How does this co-creation work?
Yes, every piece is made together. From the brainstorm session, the casting of the models, the photo shoots and the post-production. In all the steps towards completion we have discussions about the project and change things when new ideas arise.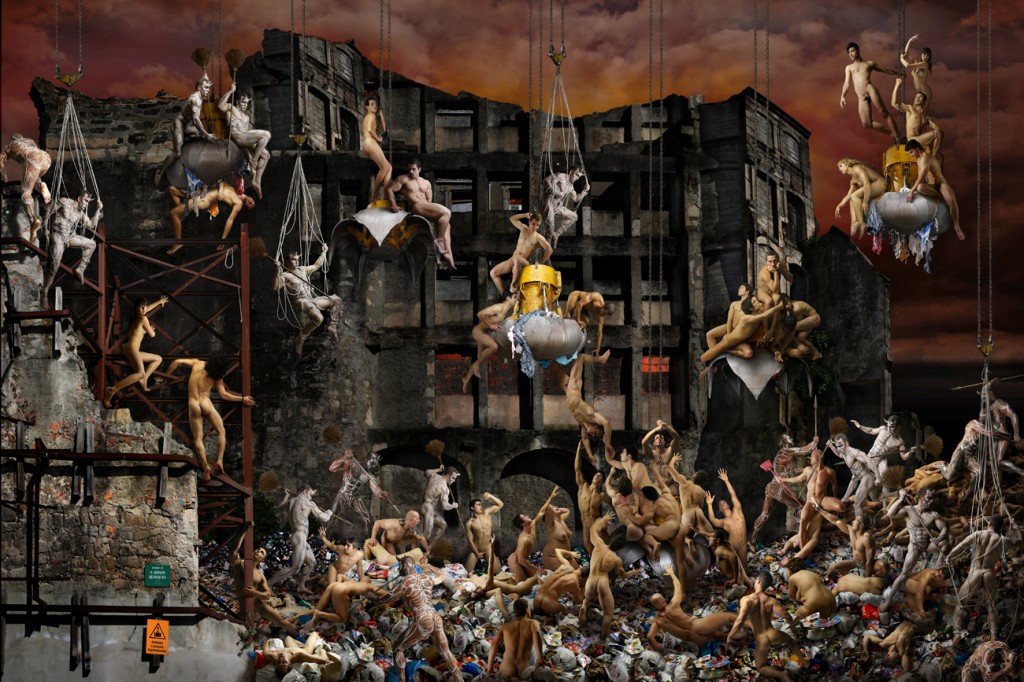 How does the creation of a large piece like Dante's dream work?
This can take months or even years! We start with an idea and we write things down on paper. We make sketches and research the background for the piece, the mythology and history we would like to use for example. Then we decide how many models we need and what their pose and position needs to be.
We shoot every model separately because they often don't feel comfortable to be nude in front of other people. We really need to be careful when we position the model and take note on how the light and shadows work on the body. In the final piece we digitally place them all together and it must give the impression they are in the same space.
When the shootings are done and we are satisfied with the results we start the digital post-production in Photoshop. This often takes a really long time because we want everything to be perfect.
How do you find your models?
Many of them are friends of ours or people we know from the gym. Sometimes when we are looking for someone special we use Facebook or do casting sessions.
DDiArt is exhibiting their digital erotic art in Art gallery AFK in Lisbon (Portugal) this summer.